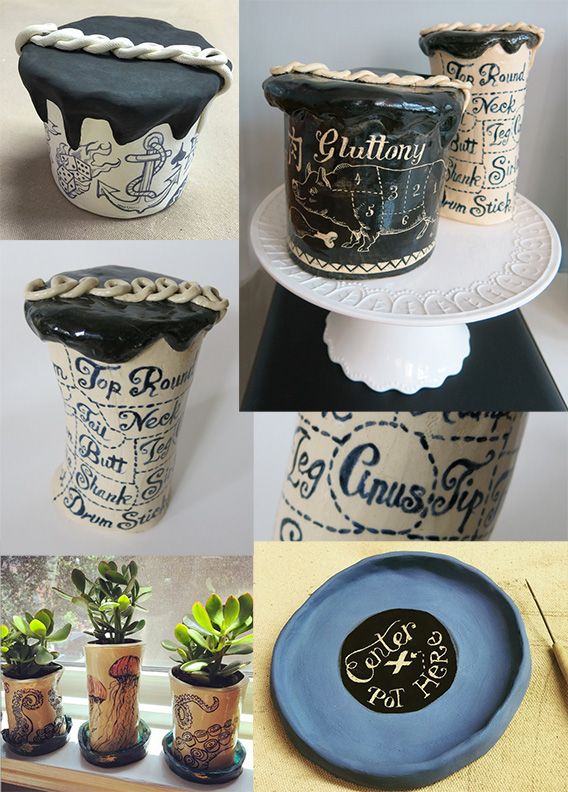 Two of the greatest artists in America have inspired me to try and wade into the world of ceramics. Their names would be
Susan Rose
and
Gennine Zlatkis
. This has been no easy journey for me. Working in clay is hard to do. I'm not into working on the wheel nor do I have the chops. Hand building is my thing. My first weeks, which were many, were filled with hundreds of mistakes and mishaps. My works fell apart, things exploded, I fired stuff when I should have painted on it first, I put on one coat of underglaze when I should have put 3 and on and on. The teachers seemed to look upon me in despair. Plus they were forcing me to work on the wheel until one teacher saw some of my drawings and told me NOT to go near the wheel anymore. That was a big turning point. Many times I wanted to quit but the thought of Sue and Gennine being disappointed kept me going. This sort of explains how crazy I am because Sue and Gennine had no idea I was taking a ceramics class. The images I am showing here are really not very good but they are my first few experiments. They are filled with mistakes and things I hate BUT I learned big lessons by doing them. Soon I will make very groovy pieces of art in ceramic form. Give me some time.
Also if you want to see me post my ceramics as I'm doing them, then follow me on my
Instagram
. I give a lot of sneak peeks there.
Source : tommykane[dot]blogspot[dot]com